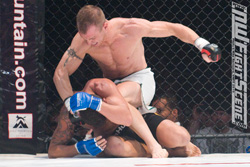 Jake McKnight enroute to victory
McKnight get payback for cut, avenges first lost;
Georgianna, Linton & Coobaugh win @ Spirit Mountain

United Combat Sports held its first event at Spirit Mountain Casino and Resort in Oregon this past Saturday night. UFC Middleweight Champion Anderson Silva was on hand signing autographs and taking pictures with those who were still fans and not screaming out F-bombs and chants for Chael Sonnen... this is probably why he doesn't care to learn English.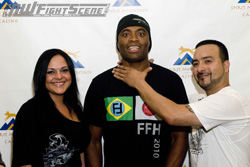 Anderson Silva w/ UCS Promotors Charles & Shalin Grijalva

Team Chaos fighter Jake McKnight evens up the score with opponent Damaso Periera who trains out of the Muay Thai College in Curitiba Brazil with Anderson Silva. McKnight and Periera met once before in August 2009 and the bout was stopped due to a cut and awarded in favor of Damaso. In this fight, McKnight was explosive in the first from start to finish, got the takedowns and controlled the fight. Damaso started to get off with his jab in the second and third round but McKnight sealed the deal with takedowns and grounds control. In the end the 3 Judges scored the fight 29-28, all for McKnight.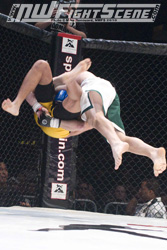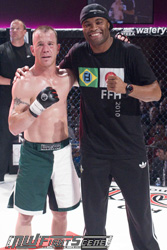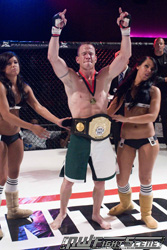 Art of War fighter Jason Georgianna came out with his grandfather in mind and a no-tap mentality, and head instructor of New Breed JJ & coach of Next Level BJJ Eben Kaneshiro was going to put that to the test. These two Bantamweight fighters went toe to toe transitioning on the ground and going at it on the feet... they never once slowed down. Eben threw sledgehammers for hands and Jason answered with impressive Muay Thai Kicks. A couple times Eben had Jason in serious trouble on the ground but with WEC fighter Olaf Alfonso in his corner screaming at him to go now, Jason somehow managed to reverse or get out. The fight was razor close, but in the end the judges saw it as a split decision for Georgianna.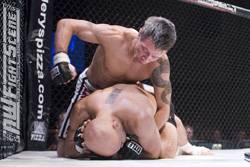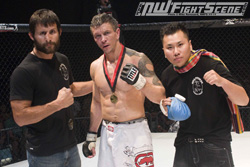 In a fight that was over very quickly, Dog Pound MMA fighter Denny Linton choked out Frankie Mendez by Guillotine in 1:32 in the first round. Mendez who trains out of Arsenal Fight team (which just merged with Brave Legion) ate a big knee right off the bat and was taken down by Linton, but then got to his feet. Mendez went after the takedown and that's where Linton secured the Guillotine. Mendez's corner UFC veteran Rick Story was yelling to his fighter to circle to his right to get out of trouble, but Mendez's body dropped as he went unconscious and the fight was stopped.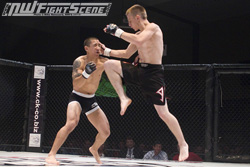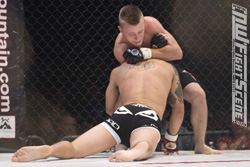 Patricia Vidonic (making her pro debut) and veteran fighter Valerie Coolbaugh got Fight of the Night Honors in the bloodiest bout of the evening. Patricia kept after the takedown and threatened Valerie with a couple Submission attempts that almost had Coolbaugh in trouble, but the War Room fighter escaped and made Patricia pay and pay hard. Valerie used her reach to keep Patricia at bay, punishing her repeatedly while stuffing the takedown attempts to win a unanimous decision victory.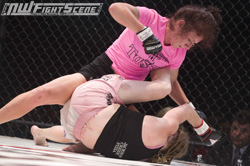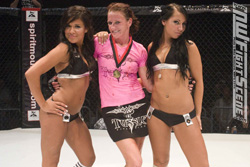 In amateur action Benny Vinson from Third Eye Jiu-Jitsu/Full Blooded Fighter came out against Don Johnson from Arsenal Combat in a title bout at 135lbs that was a complete war. But only one could be walk away the champion and after 1:45 in the 3rd round it was Benny Vinson. Benny came out strong rocking Don with a 1, 2, 3 punch combo that forced the Washington fighter for the takedown and as Benny then went on the offensive it took Don into deep waters here too. Benny mounted Don and when Don tried countering with a triangle to take control, Benny used it to reverse or attack by arm-barring him or getting better position. Don stayed in the fight until he finally tapped to a rear naked choke that awarded Benny the first ever United Combat Sports' Bantamweight Amateur title.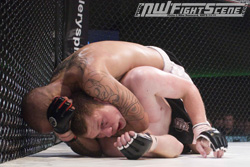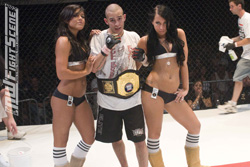 Knockout of the Night honors go to 503 West Coast Jiu-Jitsu fighter Ricardo Martinez & Team Trinity's H.J. Bishop in a heavyweight slugfest that almost went the distance. For what Ricardo lacks in a stunning physique, he makes up for in a stunning right hand and left hook followed up by a lot of heart and a couple uppercuts. This fights had both guys throwing everything but the kitchen sink at each other. The ref stopped the fight and called it a TKO for Martinez in round 3 @ 2:28.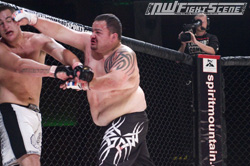 Three submissions came from Lingo Diaz & Rod Jaques (Competitors Club) & Mathew Cox (Team Chaos). Diaz beat Tyler Warren by Rear Naked Choke at 43 seconds in the 2nd round, while Cox beat Johnny Walker "Red" (and no, I didn't make that up and I wasn't drinking) by the same choke at 50 seconds of the 1st.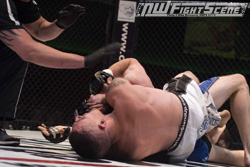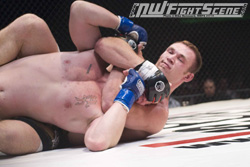 Rod Jaques beat Cody Ferrando by Arm-Bar from side-mount at 2:18 in the first round.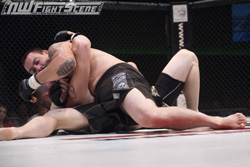 And last but not least, Paul Hasslen, representing Dog Pound MMA, came out of retirement and won a unanimous 5 round decision victory over Elmer Banks III to pick up the UCS Amateur Heavyweight Belt.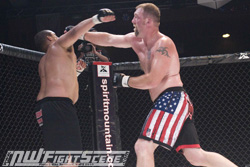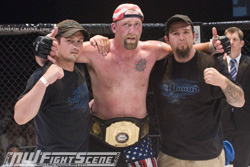 For more info on United Combat Sports, go to unitedcombatsports.com.
---