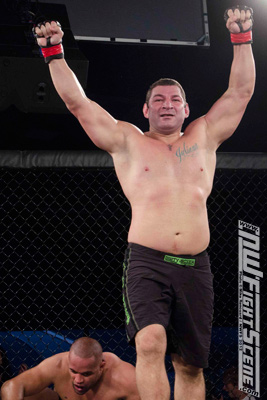 Matt "The Law" Lindland's SportFight traveled to the shores of beautiful Lake Chelan for their latest show, SportFight 31: Battle by the Bay 2. Held in the Deep Water Amphitheater at the Mill Bay Casino in Manson WA, the normal SportFight ring was switched for a cage at the request of the casino, but the fighters nor the fans seemed to mind, with all nine bouts, 7 pro and 2 amateur, having either 1st or 2nd round finishes. The fights were emceed by veteran ring announcer Tim Hughes and on hand, besides SportFight promoter and MMA legend Matt "The Law" Lindland, were Strikeforce 185 lb Champion Luke Rockhold, Veteran fighter Trevor Prangley, UFC fighter Scott Jorgensen and Sportfight 135 lb champ Jesse Brock.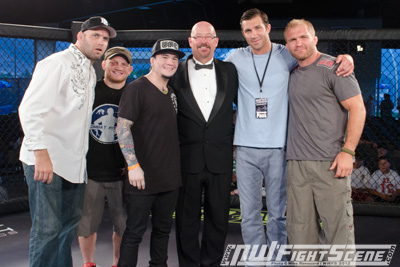 The main event featured a pair of big heavyweights ready to throw down. Fabiano Scherner, UFC & IFL veteran as well multiple BJJ champion and head BJJ coach at Team Quest, entered the bout at 264 pounds and is on a 2 fight win streak. Up and coming Anthony Hamilton at 6-1 professionally, hails out of the Seattle area training with Foster's BJJ & Ring Demon, but also putting in time down in Albuquerque at Greg Jackson's camp. The fight started out slow with the pair throwing a couple jabs at each other. Scherner was the first to pull the trigger, missing as Hamilton ducked under and went for a takedown. Scherner however held that off and the fight went into the corner with Scherner up against the cage. A flurry ensued with Scherner coming off the cage holding Hamilton in a Muay Thai clinch and throwing up some knees.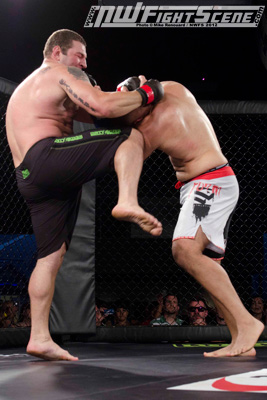 Hamilton broke free and that's when Scherner connected with a right dropping him to the canvas. Scherner followed up getting on top and throwing down a couple strikes until Hamilton gave up his neck and Scherner finished quickly with an arm triangle choke at just over two minutes in.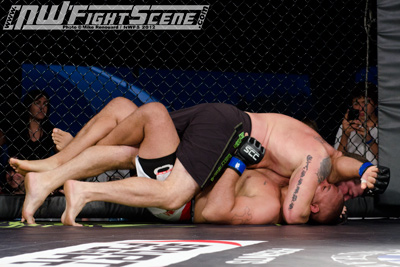 Afterwards, Scherner talked with NWFS about the fight and having his son come into the cage to celebrate afterwards...
In the co-main event, hometown favorite out of East Wenatchee and veteran MMA fighter, Victor Estrada, faced off with Oregonian John Heath representing Team Quest Tualatin in a 160 lb catch weigh fight. The fight started fast with Estrada swinging for the fences. Heath either clipped Estrada or he slipped as he went to the canvas and Heath wasted no time in scrambling on top and throwing down an elbow or two before deciding to let Estrada up and have it play out on the feet. And play out it did quick, as Estrada connected just seconds later with a solid right hand that knocked Heath out at just 32 seconds of round one, setting off a wild celebration in the cage for Estrada and his fans.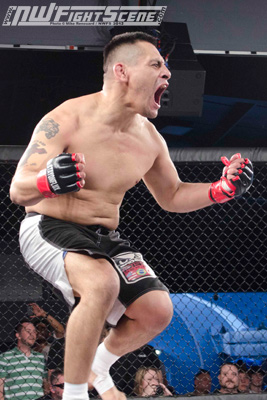 Team Quest's Terrence Williams burst onto the NW MMA scene in 2011 with numerous highlight reel knockouts, going undefeated as an amateur. In this his first pro fight, Williams was squaring off with longtime NW veteran fighter, James "Jackknife" Marohl who looked to teach Williams a thing or two about the game with his style of relentless attack fighting. The bout started out with both throwing hard leather in the center of the cage and continued that way for the duration. It was Williams however who was the more consistent in landing hard strikes and doing damage, and by the end of the first round Marohl was starting to look worse for wear. In the second, Williams dropped Marohl with a right and then took over on the ground, giving Marohl no quarter in throwing and landing hard punches and elbows.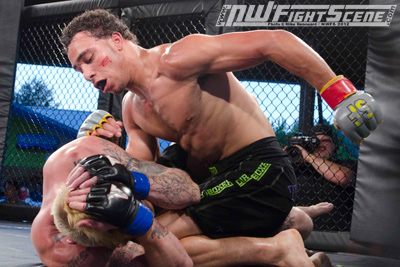 The finish was set up with a quick knee to the solar plexus of Marohl that left him defenseless and Williams threw just a couple punches before referee Anthony Hamlett stepped into to stop the contest at 2:02 of the 2nd. Afterwards, Williams spoke with NWFS about the win and being in his longest fight to date.
In a 190 lb catchweight matchup, Team Quest's Brandon Pitts and Team Animosity's David Anderson played the clinch game against the cage for the first minute and a half plus, before Pitts finally got a takedown and took over. Utilizing his ground and pound game, Pitts inflicted serious damage on Anderson who had no answer for it and eventually tapped to the onslaught at 3:10 of round one.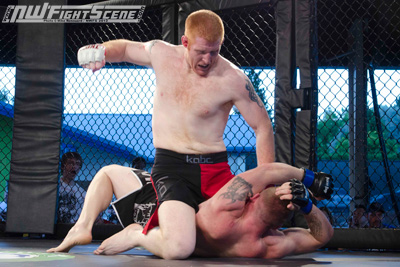 Decorated Army Ranger Scott Thometz, fighting with Twisted Genetiks out of Boise ID and cornered by UFC fighter Scott Jorgenson, faced off with NW MMA veteran Roy "Precious" Bradshaw in a 145 lb matchup. Bradshaw went to shoot early off a Thometz kick but Thometz sprawled well and got position on the ground over Bradshaw. From that point, it was a grappling clinic as Thometz first went for the choke and then transitioned to an armbar attempt that Bradshaw valiantly tried defending. Thometz stayed with it however and eventually got Bradshaw's arm locked in, forcing the tap at 2:16 of the first.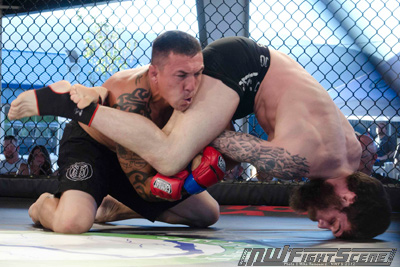 Thometz' Twisted Genetiks teammate, Chuck Fordyce, was also victorious via submission in a 145 lb bout with BJJ Spokane's Carlos Rodriguez, but not after weathering a solid first round from Rodriguez. The fighters engaged quickly at the bell with Rodriguez connecting early and Fordyce choosing to close the gap, getting Rodriguez in the clinch against the cage for an eventual takedown. But it went quickly back the feet where Rodriguez landed with a couple nice knees to the body of Fordyce. The round ended with the fight on the ground and Rodriguez trying to score from mount.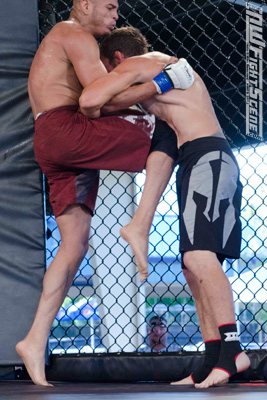 In the 2nd, the tide turned quickly as Fordyce connected with a right that stunned Rodriguez and sent the bout to the mat. From there Fordyce got Rodriguez' back and the eventual rear naked choke submission at 1:04 of the 2nd.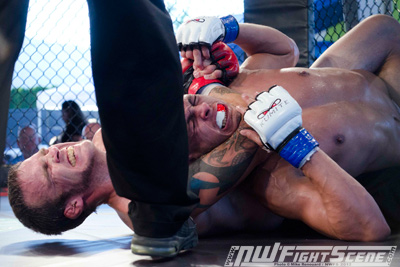 The night's first professional bout was a 205 lb affair featuring Australian fighter Robert Wilkinson, up training in the states for a few months and representing Team Quest, against Redneck Militia's Ty Sharp. This fight went to the canvas quick and from there Wilkinson used his elbows to great effect, softening up Sharp and getting him to give up his neck for the rear naked choke at 1:42 of the first.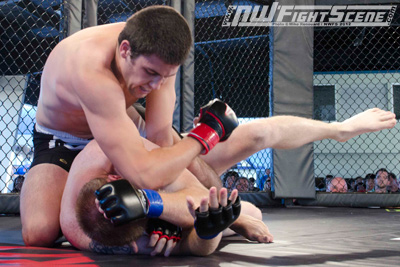 Afterwards, Wilkinson spoke to NWFS about the win and about his decision to come up from Down Under to train with some of the best MMA fighters on the planet.
Two amateur contests opened the evening of fights starting with Chelan WA's own Anthony Ballard getting a takedown, fighting through a guillotine attempt, and raining down punches to finish Team Quest's Murray Couture via TKO at 1:48 of the first.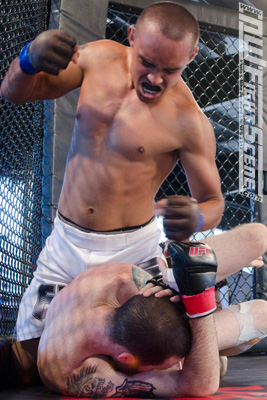 Jon Webber had little trouble with Jonathon Santos, submitting the Chelan WA fighter via rear naked choke at just 42 seconds in.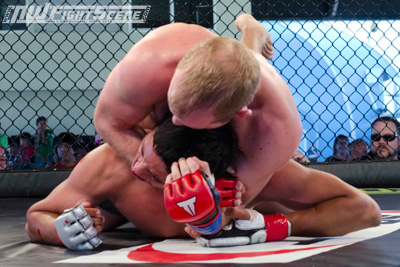 More info about Sportfight at Sportfight.tv or facebook.com/sportfight
---