Portland, OR - On Saturday, January 25th the Full Contact Fighting Federation (FCFF) is starting off the new year with a top caliber fight card at "Rumble @ The Roseland 76" that includes five FCFF Championship fights and one Superfight. The FCFF is bringing back Tyree Fortune, the undefeated Heavyweight Champion and Bryan Nuro, the 155-pound Lightweight Champion; as well as hosting three other edge-of-your-seat Championship battles in the vacant 170-pound, 135-pound and women's 115-pound FCFF divisions. Also, a 160-pound Superfight has the potential to steal 'fight of the night honors,' as two mixed martial artist (MMA) veterans face-off. Doors open at 6pm at the Roseland Theater, fights begin at 7pm. Tickets available at Safeway Ticketwest outlets, online or by phone. Updated fight cards available at www.thefcff.com.
Co-Main Event: Tyree Fortune, the FCFF's undefeated, undisputed Heavyweight Champion just earned the FCFF's 2013 "Fighter of the Year" award in the annual FCFF "Fighter Hall of Fame." His record sits at 7-0 and on January 25th he will attempt to defend his FCFF Heavyweight belt for a fifth time against Wade Sauer. Sauer's heavyhands already have a reputation. In November at "Battle at the Mountain" Sauer ended his fight against Rudy Schaffroth via a round two TKO; and on January 4th in Pendleton, in just 15 seconds of round number one, he broke Andy Eichholz nose, ending the bout by TKO.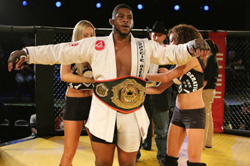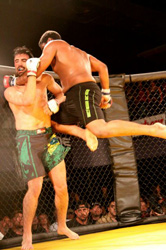 Co-Main Event: FCFF's undefeated 155-pound Lightweight Champion, Bryan Nuro will face off against Justin True of Bend, Oregon at Rumble @ The Roseland 76. Nuro just earned the FCFF's "2014 Fighter To-Watch" award due to his accomplishments in 2013. Five-out-of-six of his wins have come within FCFF competition. Recently, Nuro earned the FCFF Championship Title at Rumble @ The Roseland 70 with a rear nake choke victory over Sean Baker. He then successfully defended his FCFF Lightweight belt in November at "Battle at the Mountain" by defeating Alex Branom via judges decision. His competition, Justin True is on a undefeated streak since 2013 with three wins in the FCFF; two by triangle choke and one via judges decision.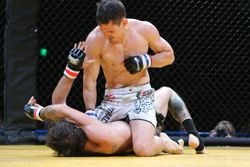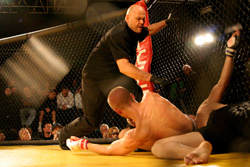 The FCFF's 135-pound Bantamweight belt has become vacant due to Ricky Simon relinquishing it to turn professional after Rumble @ The Roseland 74 in October. Sean Gee of Chicago and David Converse from Lincoln City will faceoff in a great match-up; both are experienced and at the top of their game. David Converse is the current FCFF Flyweight Champion and is going for a second FCFF belt. He has 13 mma victories on his resume to date and holds championship belts from the "Northwest Championship" event and the "Midtown" event. Sean Gee has seven wins under his belt and is two-for-two in the FCFF. Recently, Gee won at Rumble @ The Roseland 73 where he defeated Sean McNulty via Guillotine Choke. This choke earned Gee the "Best Choke" of 2013 from the FCFF Fighter Hall of Fame. Since, he battled Chayse Garrison in a three round grudge match, getting the TKO in the final moments of the bout in October at Rumble @ The Roseland 74.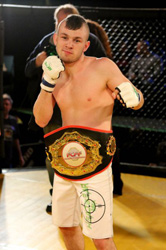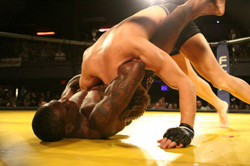 The 170-pound Welterweight Championship Fight feature a crowd favorite: Scott Baker of Hood River, Oregon. He will face Daniel Dieringer for the FCFF's vacant Welterweight Title. Both fighters have three previous wins in FCFF competition. Bakers' wins come from Submissions and a KO and Dieringer wins are a results of judges decisions and a TKO. Last year, at Rumble @ The Roseland 70 Baker invited his girlfriend into the cage and proposed marriage; this time he enters the cage for the illusive FCFF Title.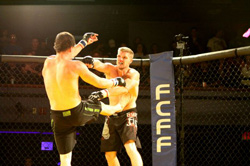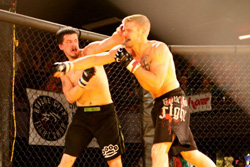 In the only female fight on the card Jennifer Gaspard of Bend, Oregon will REMATCH Joy Edewards of Rise MA for the FCFF's 115-pound Championship belt. These two female fighters first met at Rumble at the Roseland 75 in December and battled all three rounds. Edewards came out on top via a judges decision victory.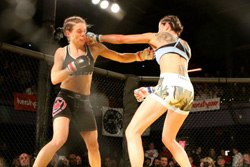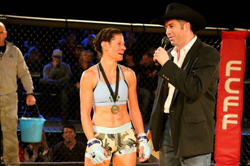 The final belt up for grabs on January 25th will be the FCFF 160-pound Superfight Title. Billy Denney, who fights out of Art of War will square off against Andrew Gundlach of Rise MA - both are attempting a comeback! Denney a 30-year-old mma veteran will be coming back from a one year hiatus from competition. Denney is very well rounded fighter with seven wins in his history resulting from Submissions, TKOs (two due to strikes), and Judges Decisions. Andrew Gundlach, who is coming back after a 1.5 year hiatus, last won the "Midtown" Championship belt back in May of 2012 at the "Midtown Throwdown 4" event. There he defeated Christian Graves via judges decisions. Gundlach has three other wins (dating back to 2007) in FCFF competition, winning via Submissions and a TKO.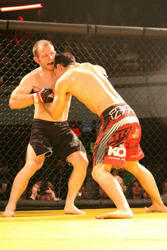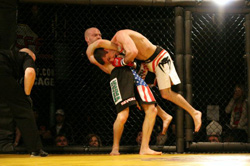 The Rumble @ The Roseland 76 undercard has three other key matchups to watch for. In the 125-pound division Chris Pejakovich, a wrestler from Peninsula will take on David Magliane. Also, in the 155-pound division, Kody Hammond of Gracie Barra is looking to make a push towards a title shot and will face Nelson Herhandez of UFC Gym. Finally, two heavyweights will slug it out: Rudy Schaffroth verses Sam Sprauer. Updated fight cards at www.thefcff.com. Tickets available at www.ticketswest.com or at Safeway tickets west locations. Doors open at 6pm at the Roseland Theater and tickets can be purchased at the door. Fights start at 7pm.
About the FCFF:
Established in 2001 as Oregon's first ever mixed martial arts organization, the Full Contact Fighting Federation played a pivotal role in the original legalization of the sport in our area. Founded by long time friends, Kevin Keeney and Chael Sonnen the organization and the mma scene in Oregon has flourished over the past decade. The FCFF's signature event is "Rumble @ The Roseland," hosted at the Roseland Theater in downtown Portland. Recently, in 2013, the FCFF has partnered with Spirit Mountain Casino to create a pro/am event titled: Battle at the Mountain. The FCFF's events and fighters have been featured on "Inside MMA" a cage fighting sports news program that is broadcast nationally. In recent years, Chael Sonnen has gone onto much success in the professional circuit as a professional fighter, commentator for the UFC and coach for the TV show "The Ultimate Fighter."
---