Portland, OR - On Saturday, December 7th the Full Contact Fighting Federation (FCFF) will host their biggest event of the year at "Rumble @ The Roseland 75." The Roseland Theater will be packed with special guests, FCFF hall of famers and a loaded fight card - all to celebrate 75 shows in the Pacific Northwest. The FCFF was the first mixed martial arts (MMA) organization to ever hold an event in Oregon and is still the best, often referred to as the "Golden Gloves" of MMA. Expect fireworks in the 25-foot-steel-cage, known to fight fans as "The Slammer," with four FCFF Championship fights, one 185-pound Superfight and two female fights on the card. The FCFF will acknowledge Matt Lindland, the first event referee at "Rumble @ The Roseland 1," who's has an outstanding MMA resume: Olympic wrestler, UFC fighter, Gym Owner and local MMA legend. Also, throwback champions: The Pope Brothers return from the early days of FCFF competition. Tickets available at www.ticketswest.com. Doors open at 6pm, fights begin at 7pm.
The Main Event features the undisputed, undefeated FCFF Heavyweight Champion, Tyree Fortune. On December 7th he will face a past FCFF Heavyweight Champion who returns to competition after a one year hiatus. Scot Davenport, from Talent, Oregon earned the FCFF Championship at Rumble @ Roseland 68 with a TKO in round one over Leo McDonald, last December and had to immediately relinquish the belt. In the next FCFF event in January, Fortune earned the Title with a TKO win over Paul Sims. Fortune has been on a streak ever since, with six consecutive FCFF wins in 2013. If he wins in December he will have flawless fight record in 2013. "Both men have had the FCFF Heavyweight Championship belt around their waists and Scot is here to prove he's still the Champion. This will be Tyree's toughest matchup to-date," explains Kevin Keeney the FCFF Matchmaker and co-owner.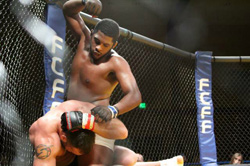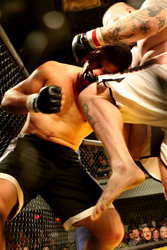 The Co-Main event brings back Nick Biron, the FCFF's 2012 "Fighter of the Year," and only man to ever hold the FCFF Heavyweight and Light Heavyweight (205LB) Titles, Simultaneously. Biron will put is 10-0 undefeated record on a line in an intense match-up with Derek Harris of Springfield, Oregon. Harris has three wins in 2013, two by TKO and one via a submission victory. Biron last fought at Rumble @ The Roseland 72 in July and made his fourth Title defense in the 205-pound division. "Nick finds a way to win. He's faced every type of fighter in the Northwest and comes out on top. He's a true Champion," said Keeney.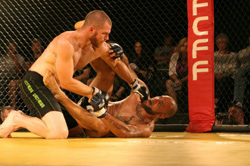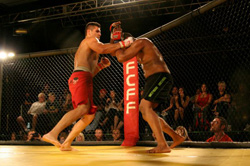 There are two other FCFF Title fights on the card in the 125-pound Flyweight and the Super Heavyweight divisions. The FCFF Flyweight Title is currently vacant, due to Alex Corrales turning professional. David Converse is a great competitor with 12 wins, including the Budofights Flyweight Championship Belt from October 2012 (win via an armbar submission over Cody Young) and a Midtown Throwdown event Championship Belt (knockout over Ian King) in May of 2012. This will be his first fight since 2012 and he hopes to go all the way. BJ Sannicholas has three wins under his belt that date back to Rumble @ the Roseland 36. "Both men in the Flyweight Championship fight are seasoned competitors and we are anxious to see how things will go down," said Keeney.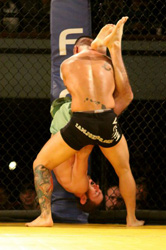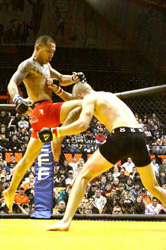 In the FCFF Super Heavyweight Championship fight, Nathan Milsap (a crowd favorite) returns to face the current Champion: Casey Lunzman. While Milsap is relatively new, his talent and potential outshines his 1-1 record. In Milsap's first ever fight he took on the FCFF Champion in a non-title bout and held his own for three rounds and lost via the judge's decision. "His physical presence is so intimidating that no one wants to fight him," said Keeney. At Rumble @ The Roseland 74 he took on Jared Matthews and quickly won via a round one TKO due to strikes in the first 30 seconds of the bout. At Rumble @ The Roseland 75 these two 'big boys' will showdown! Milsap stands at six feet, five inches tall, while Lunzman stands at six feet and nine inches tall. This fight could easily steal "fight of the night" honors.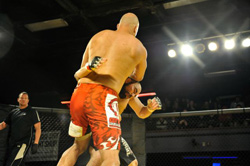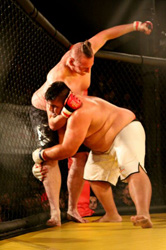 The final FCFF belt up for grabs is the 185-pound superfight where the former FCFF 185-pound Champion, John Simon will face George Turneanu. Simon 4-1, was a two time FCFF Middleweight Champion. He first earned the Title against Jake Smith at Rumble @ The Roseland 70 via the judge's decision. Then he defended that belt at Rumble @ The Roseland 71 against Jose Rodriguez via a TKO. He was unable to fight at Rumble @ The Roseland 73 and was forced to relinquish the belt. "John's here to get his FCFF Championship belt back," said Keeney. He has to get through Turneanu first, who has three FCFF wins against Lee McCurry, Robert Russell and Jeremy McKee; where he finished each fight via knockout, TKO and Submission via rear naked choke, respectively.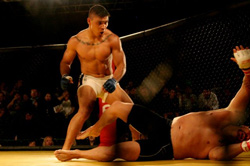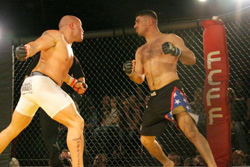 Also on the Fight Card is a stacked undercard, filled with action packed match-ups. Notably, Nathan Satare of Vancouver, Washington returns to competition to face Howard Huang of Rise Above MMA. Also, two female fights are on the card featuring Anna Chouinard of the Octagon MMA, facing Kristen Maaranen of Rise Above MMA in the 125-pound division. Two women: Joy Edewards and Jennifer Gaspard, are also debuting in a 120-pound catch weight fight. Updated fight cards are available at www.thefcff.com. Up-to-the-minute content streams on social media at www.facebook.com/fullcontactfightingfederation.
Tickets available at www.ticketswest.com or at Safeway tickets west locations. Doors open at 6pm at the Roseland Theater and tickets can be purchased at the door. Fights start at 7pm.
---