Pacific Coast Cage Fights 14: Killer Instinct - August 17th, 2007
Linn County Fairgrounds - Albany, Oregon
Results courtesy of the promoter
---
For info on the Pacific Coast Cage Fights promotion,
past PCCF events, and more visit www.pccagefights.com
PCCF 15 is scheduled at the Eugene Armory on October 6th
---
PCCF 14 Results
Allen Davis def Travis Napier, KO, Rd 1
Rusty Hand def Jeremy Moye, Rear Choke, Rd 1
Kyle Pierce def Josh Jones, Ref Stop, Rd 1
Ethan Pelky def Carl Villa, Ref Stop, Rd 3
Darel Caven def Tristan Hendrickson, KO, Rd 2
Marlin Weikel def Ben Daniels, Ref Stop, Rd 1
Trent Weseman def Ryan Harris, Ref Stop, Rd 3

135 Title:
Chris Harnden def Brandon Pettigrew, Armbar, Rd 1 to claim the vacant 135 belt. In the battle between the ridiculously strong Pettigrew and the more technically skilled grappler Harnden, Hardnen put his submission skills to use.

170 Title:
Alex Rehr def Jake Albinio, Armbar, Rd 2 to claim the vacant 170 belt. This was a very intense grappling/ground-n-pound battle betwen these two wrestlers. Albinio controlled top position for much of the fight but Rehr kept his composure and locked in the armbar to win the belt.
---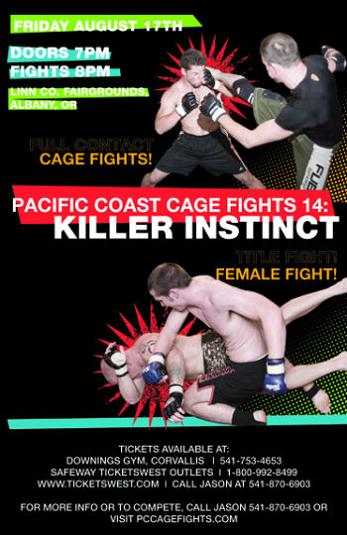 ---


All Photos, Design, and Content © 2006-2013 NW FightScene™, unless otherwise noted.
Any usage of content on this site is strictly prohibited without the express written consent of NW FightScene™.
Report any errors to webmaster@nwfightscene.com