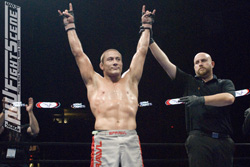 Vancouver, WA - Brave Legion fighter Mike Pierce went into his September 16th
UFC debut against Brock Larson as a 6 to 1 underdog. Larson, having twice the experience, and having only been beaten by the likes of Carlos Condit and Jon Fitch, was given the victory before the fight even happened. Pierce stated people even said he would lose by "Landslide Killing!" Yet none of this deterred the former Portland State University 2 time All American wrestler.
"You can't let that stuff be a factor when you go out there and try and compete," said Pierce "I just treated it like any other time that I've fought."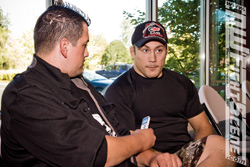 And that he did, Mike went out and earned his first UFC victory -- and biggest win of his MMA career -- defeating Larson via unanimous decision at UFC Fight Night 19.

Mike was then quickly scheduled to face tough American Kickboxing Academy standout Josh Koscheck at UFC Fight Night 20. However, when Koscheck was pulled from that bout to fight on the UFC 106 card, UFC matchmaker Joe Silva offered Pierce a fight December 12th against AKA teammate Jon Fitch (another fighter who boasts a win over Brock Larson) at UFC 107 in Memphis Tennessee.
Fitch, a wrestler from Purdue with an impressive 10-1 UFC record, puts Mike in another underdog situation, forcing the 2 time PSU Triple Crown winner to go against the odds one more time... Jon Fitch will definitely be the biggest test Mike Pierce has faced to date. Fitch has compiled his formidable win record in the UFC by beating guys like Diego Sanchez & Thiago Alves, with his only loss in the UFC comes at the hands of the Champion George "Rush" St. Pierre in a title bout at UFC 87.
Fitch is currently tied with MMA legend Royce Gracie for consecutive UFC wins; both having 8. Anderson Silva holds the overall record at 10 straight wins.

Fitch and Pierce are similar in the fact that they're both decorated wrestlers and both were turned onto MMA through famous Wrestlers turned MMA fighters. Jon got his feet wet at the hands of Mark Coleman & former Pride fighter Tom Erikson, while Pierce watched Randy Couture, Dan Henderson, and Matt Lindland, eventually joining Team Quest for his first amateur fight.

At any rate, with this bout against Fitch, Pierce will get a chance to prove the odds wrong once again... this time hurling his name into the top ten of the welterweight division if he can bring home another upset.

"The only thing that matters is, when they close that door, there's somebody across the ring from you that's, you know, trying to tear your head off", said Pierce.
"Nothing else matters. It's do or die. Him or me!"

Watch Mike Pierce fight Jon Fitch on Pay-per-view at UFC 107, live from the Fedex Forum in Memphis, Tennessee this coming Saturday, December 12th.
For more info on Pierce, visit Bravelegion.com and myspace.com/mikepierce170.
---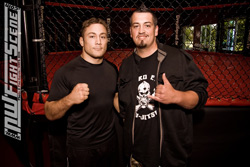 Mike Pierce with Spaniard