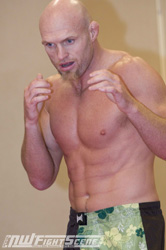 Keith "The Dean of Mean" Jardine takes on Thiago Silva in the Co-main Event this Saturday at UFC 102: Couture vs Nogueria in the Rose Garden. Jardine took part in the Open Workouts Wednesday at the Marriot Hotel in downtown Portland and NWFS's Steve "Spaniard" Valentine had a chance to speak with him one on one...
---
NW Fightscene: Keith, the one thing I've always wanted to ask you... they say "The Dean of Mean" but you're always the nicest guy. How do you do that switch to the mean guy?
Keith Jardine: You know, being mean is just about being mean when you have to be. Its about when you come up against adversity, whether it be a fight, whether it be money problems, whatever. You put your head down and go to work. I think when you're that way you don't have to carry it around all the time. You can just relax and be yourself. I don't have to put up any false fronts.

NWFS: What kind of stuff do you go through before a fight to kind of mentally prepare yourself to get to that level?
Jardine: You don't have to do that much because you're going to go out there and actually get in a real fight. The guy's going to try and tear your head off so if your adrenaline is not pumping and that doesn't get it going then you must be dead.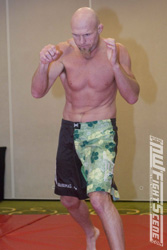 NWFS: Do you have an entrance song picked out for this or do you let Dana White pick out your songs?
Jardine: Dana usually does. I think I'm using the Bourne Ultimatum song again or Bourne Identity song, whatever is it is. I like it. It was all right.

NWFS: What is your game plan coming into this fight
Jardine: You know my game plan is just to go out there and relax and work on what I've been working on. I've improved my boxing a lot. Man I'm excited to show off everything I've been working on. And that's my game plan. So its kind of boring but just go relax and see how you fit in. That's how I always do it. Best laid plans often go awry so I don't have any exact game plans.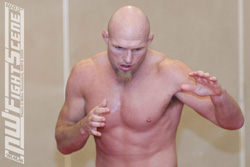 NWFS: After this fight what do you think is next for Keith Jardine?
Jardine: After I win this fight I expect big things. I'm going to fight another great opponent, whether it be the champ or someone trying to fight the champ. Its going to be another main event, co-main event, and its going to be someone really good ant that's what I like about the UFC right now. They don't set up any easy fights for anybody.
---
Much thanks to Keith for taking the time to speak with us.
Check out his website at www.keithjardine.net