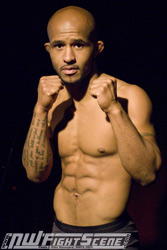 Demetrious Johnson, training out of Matt Hume's AMC and making his WEC debut this Saturday, should be no stranger to Northwest fight fans. Since 2006, Demetrious has lit it up on the NW amateur circuit, going undefeated against the best small guys in the region and picking up 4 title belts in the process. Turning pro, Johnson picked up a first round King of the Cage win in Everett last summer against Frankie Mendez, and most recently knocked out Jesse Brock via a first round head kick in the Alaska Fighting Championships on February 10th. This AFC knockout highlight was aired on HDNet Fight's Inside MMA show, and within days Johnson had signed a contract with the WEC. His debut with the organization is set for this coming Saturday, April 24th, fighting Cage Rage veteran, Brad Pickett (19-4, 1-0 in WEC), on the undercard of WEC Aldo vs Faber in Sacramento.
NW Fightscene spoke to 23 year-old Demetrious last week about the fight, his training under the tutelage of Matt Hume, & a whole lot more...
---
NW Fightscene: What exactly is your record?
Demetrious Johnson: My overall record is 26-0. Like some places they count my amateur fights as pros, some places just count my pro fights I had as pro. I asked Matt that same question and he said 26-0. Just overall from Muay Thai, Kickboxing, Boxing, Submission Wrestling, MMA, all of it. So like 26 and 0.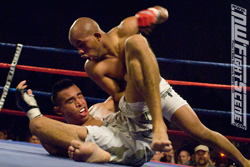 NWFS: Now this fight with the WEC, Brad Pickett. That's real exciting for you. How did it come about and how many fights do you have on your contract?
Johnson: We knew we were to fight Brad Pickett I think it was beginning of March. ...Its a six fight deal and the first opponent it going to be Brad Pickett. They wanted to hold off the fight for awhile and try to build it up, but Matt said 'Nah. DJ can take him right now'. They accepted it and Matt basically accepted it, and we're going to try and give it to him.
NWFS: I just watched your last fight up in Alaska against Jesse Brock. They showed that highlight reel knockout on Inside MMA. Did that help do you think in getting the WEC contract or was it already lined up?
Johnson: Yes that helped me get the WEC contract... Because Jesse Brock was a pretty good opponent. He's been in Elite XC, he's fought all out in the world. And I just went in there and did my job. And Matt was like 'OK, let me see if I can get a WEC deal with him'. And sure enough, that highlight reel.. [WEC Matchmaker] Sean Shelby called him, Matt the other day after we got back home from Alaska and I think that's how it worked out.
NWFS: After the knockout, you did that spinning kick in celebration. Is that something that just comes spontaneous or something you think about before hand?
Johnson: It comes natural. Sometimes I choose what I'm going to do. Like I've always done that Capoeira kick since I was little. So I'll do that or whatever. Once I got the knockout I was like 'Oh. OK, here we go!' and I just went ballistic.
NWFS: Now you're training at AMC and it sounds like your splitting your time between the gym down in Pacific and up in Kirkland. Tell us about your training regime and what you go through the week there.
Johnson: I still work 40 hours a week so I get to the gym right around 3:30. Usually on Mondays and Fridays, I'm at my lifting and swimming gym, which is Allstar. I basically go there and run the treadmill for 15, 20 minutes, just to get my heart rate up, and then I'll start lifting. And then after I'm done lifting, I'll jump in the pool for like 15 minutes and then relax, go home and eat. Those are my short days, kind of. Then Tuesdays, Wednesdays and Thursdays, I'm at AMC Pacific. On Tuesday, Drew Brokenshire is teaching, so I do circuits, cross fit stuff and then I do pad work. And after Drew is done teaching, I'll do drilling or sparring. And then Wednesday, Matt will come down. Same thing, starts out circuits, pad work and then maybe ground work or sparring. Matt would come down and we'd do fighters training. On Wednesdays, I teach from 5 to 6:30 and I work 6:30 to 8 with Matt. And then Thursdays I teach 5 to 8 and then I go home. And then Saturdays, I go up to Kirkland and work with Matt. And then on Sundays, I do footwork drills and training with Trevor Jackson at AMC Pacific.
NWFS: So you're going 7 days a week.
Johnson: Yes, 7 days a week.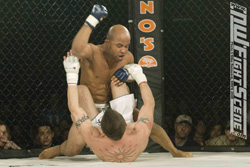 NWFS: Who are you mostly training with in terms of training partners?
Tell us about some of those guys.
Johnson: My number one dude, my number one boy, Drew Brokenshire. When he gets ready for a fight, I'm there for him, and when I get ready for a fight he's here for me... Steve Skidds, one of my coaches I've been with since the beginning of time. But he's an Alaska Airlines pilot and he's always flying. And then Matt he has his business to do in Kirkland and he has Matt Brown, Mario Miranda and all those other guys so its kind of hard for me to get with him. Drew is there for me then. I've got Taureen Washington, Brian Roberge, Scott McDonald, all the guys that fight still. But the number one guy is probably Drew Brokenshire. He's my number one 24-7, if I hitting pads its with him. If I'm sparring its probably with him. If I'm going ground, its probably with him. And he's like my number one dude.
NWFS: Matt Hume, one of the great world-class trainers... I just read the interview he did with the WEC and he compared you to George St-Pierre. What did you think of that comment?
Johnson: I think that's a very nice comment that Matt has made about me. I just got to make sure I live up to the hype that he tells people about me. I'm going to go out there and do my thing. Like I always do. Like when I fought in Alaska, looking at Matt and Steve before I fight and I was 'Alright guys. Here we go, here we go.' and they're like 'Yah, good luck'. Its kind of when I fight they don't worry because I have very good instincts and when I get into trouble I'm a very good listener, and I'm listening. And that's basically what Georges St-Pierre does. He's a very good athlete and he's very instinctual.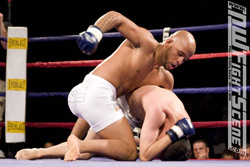 NWFS: Talk about Matt Hume and what Matt Hume brings to your game.
Johnson: Matt Hume, like you says, he's the world's greatest. He's made my game evolve every single time I fight, and understand the game a lot more. I'm always running into something new. He's able to beat me up any time he wants to. Its good to have somebody there who's able to beat you up and it just makes me see the game a lot differently... the boxing, the kickboxing, the Muay Thai, the submission wrestling, the Jiu-jitsu. And I think if it wasn't for Matt I wouldn't be in this position I'm at right now. And I owe a lot of things to him because he's a very good trainer. And I can't wait until I can quit my job and can do two a days and be able to spend that time in Kirkland and teach, instead of working forty hours a week.
NWFS: You're facing Brad Pickett, 31 year old British fighter, known to bring it. What are your thoughts about him and what's your approach to fighting him?
Johnson: He's a very good, tough opponent. And I'm very excited to be fighting him. He brings it and I always try to bring my best, A Game. The game plan is just like any other fight... make sure I have good head movement and foot work, and good combinations, and good ground and transitions, and see whether he can hang with me.
NWFS: The thing that's impressed me about you is that you just seem so well rounded in all aspects. Do you think you have greater strengths say in your standup as opposed to the ground, or vice versa... How do you view your own game?
Johnson: I think my game is like you say, well rounded... We train 24-7. Even after I get done with a fight, I take like two days off and then I'm back to training hard. And sometimes I see my standup get really elevated, get really high and my ground game get lax. And then I go back to the ground and get my ground game up. And then that kind of gets back on my standup. And I think that I'm very well rounded because Matt doesn't let us slip back to one side of the sport. One day we're boxing, the next day were doing Muay Thai or kickboxing or jiu-jitsu or submission wrestling or just wrestling. That's one of the good things about being at AMC. We don't just fight good at one thing, but at everything itself.
NWFS: Who are you bringing down to Sacramento to corner you. Obviously Matt will probably be there. Who else?
Johnson: I'm going to bring down Steve Skidds. The man I've been with since the very beginning. He taught me basically my fundamentals and he's still teaching me. And bring down Paul Stafford. He's one of my very, very good friends. He's a very good friend of the sport and he's a cool guy to have around you.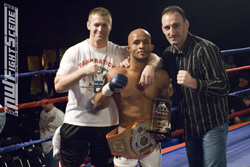 Steve Skidds, Demetrious Johnson, & Matt Hume
NWFS: You were born in Kentucky and you went to high school up here in Washington. How did you get up to Washington State?
Johnson: I was born in Kentucky and my mom was married to a military man so I was a military brat. And he got stationed at McChord Air Force Base and I got here... and been here ever since. I grew up in Parkland and went to Washington High School and wrestled.
NWFS: You talked about having to work. Tell us about your job.
Johnson: My job is great. I work at a tube plant down in Tacoma on the waterfront. And its called Caraustar. And basically what we do is take like newspaper, toilet paper, any kind of paper and recycle it and turn it into construction tubes.
NWFS: Sounds like you're pretty full up with training and your job, but you probably have some down time. What do you like to do in terms of hobbies?
Johnson: I'm always so busy, so the most I can do is spend time with my girlfriend Destiny. And just relax with friends whenever I get a chance to but I'm so busy. And I like to play video games, World of Warcraft on my laptop... But the majority of the time is spent with Destiny. Each time I get home she always has dinner ready for me and I'm eating, taking a shower, and then I try to spend whatever time I have left in the night with her. And then wake up at 6 o'clock in the morning, go to work, go train and then get home at 8:30 or 9, so doesn't leave a whole lot for myself.
NWFS: Have you experienced any injuries in your fights?
Johnson: I broke my hand and I also broke my rib in two fights. I believe in January 2009, I broke my hand in the first round after the first punch I threw, and then I ended up finishing the guy. And I broke my rib in a Muay Thai fight in the first round and I wound up winning that fight too, so I've had some injuries.
NWFS: Are you going into this fight 100 percent or going in a little banged up?
Johnson: I'm feeling a hundred percent. Its just a hard week right now, the last hard week before the fight. Broken down and the muscles are tired so after I'm done training my body is just like "ahhh"... But when it comes to fight time I'll be 110 percent and be ready.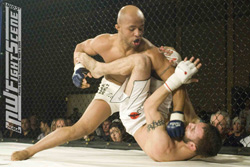 NWFS: Now this is one of the biggest fight events the WEC has ever held.
Do you have any sponsors for this fight lined up?
Johnson: I've got UniVsAll which is Trevor Jackson and Cory Duffy out at AMC. They've been helping me out. They got me brand new expensive boxing gloves after I broke my hand. Univsall's got it, they just came out with the best brand new shorts out there. If anyone likes shorts for the fighter. I also got Tri-Coasta, just signed a deal with them. They're going to make me a nice little t-shirt. They're the only two sponsors I got going on right now. I was trying to get MMA Scraps Radio on my shorts because they've been helping me out a lot but it was too late.
NWFS: Who else do you want to thank?
Johnson: I would like to thank my boss for making this happen. I gotta be down there April 20th and took a whole week off from work and he's cool we me doing that. And thank my girlfriend, Destiny, for just being there supporting me from the beginning. And thank Matt Hume, Steve Skidds, Trevor Jackson, and all the guys from AMC Kirkland and AMC Pacific. And thank my guy Drew Brokenshire. Those two make my life a lot easier, Drew Brokenshire and Destiny. Destiny handles all my paperwork and all my financial dealings, and Drew's always there and he's got my back whenever I need him.
---
NW Fightscene gives many thanks to Demetrious for taking the time in speaking with us. He takes on Brad Pickett on the undercard of WEC Aldo vs Faber this Sat, April 24th from Sacramento's Arco Arena. More info at wec.tv.
Demetrious doesn't have his own website yet but is on Facebook. AMC Kickboxing & Pankration is located in Kirkland, WA at 427 6th St S. (425-822-9656), and in Pacific, WA in Unit B at 1433 Valentine Ave SE. More info mmawizard.com/amc.