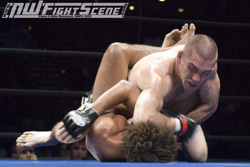 On Jan 10th, Portland native & Team Quest fighter, Dave "Fugitive" Jansen (11-0) takes on Iranian born fighter Kamal Shalorus (5-0-1) in a 155 lb matchup at WEC 46 in Sacramento's Arco Arena. Since turning pro, Jansen has reeled off 11 straight victories in a little over two years including wins at Sportfight, the M-1 Challenge, and culminating in a Unanimous Decision victory over veteran fighter Rich Crunkilton in Jansen's WEC debut this past October. Jansen himself admits that he's not blessed with the natural fighting talent that some of his compatriots have, but he certainly has the drive, heart, and determination to ratchet up his game with countless hours in the gym under the tutelage of Team Quest's Robert Follis and Matt Lindland.
NW Fightscene's Spaniard spoke with Jansen about his rising MMA career, his upcoming fight with Shalorus, and a whole lot more...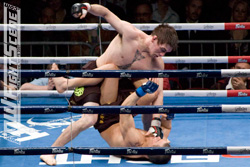 ---
NW Fightscene: Coming out of Team Quest, a ground and pound camp, do you have any background in wrestling or other sports?
Dave Jansen: The only sport I did was wrestling. I won a state wrestling title in 1997, and I got third twice in high school. And I got a full ride to University of Oregon but that's kind of where I burned out of wrestling.

NWFS: Why'd you burn out if you don't mind my asking?
Jansen: It just seemed like too much all of a sudden. I couldn't really balance the classes and the college life... For whatever reason, it stopped being fun.

NWFS: How did you find your way into MMA and into Team Quest?
Jansen: Well, [when] I wrestled at the U of O, I was there 2 years from 98 to 2000, I actually stopped by Team Quest when it was in Gresham on Main Street.

NWFS: Yeah it was called Performance Quest then, wasn't it?
Jansen: Yeah. I talked to Randy [Couture] and I wanted to join right there but I didn't have any money and I didn't have a job. And then this roofing gig came up where I can make 27 bucks an hour and so I did that for seven months and that was no fun. And then I just kind of got into this cycle of working at restaurants, service industry work. Started out as the dishwasher, then I'd become the cook, prep cook and then work my way up to the hot side. Repeated that a couple of times until I could just start as the hot cook. Like five years go by and then I'm actually working in a restaurant with Chris Wilson, right when he was starting out [in MMA]. He had like two amateur fights under his belt when I met him. He kept on looking at my ears and was like oh man, he's wrestled. You can't let that go to waste you know. You need to fight... So I went and checked out Quest in its new location on 182nd and Stark with him. Did a practice and again I was not in the mindset [that] I was willing to dedicate myself just yet. So a year and a half goes by and then Chris is on the TV fighting for the IFL. And I was like oh man, he made it. Look at him!... And that's when I was like OK, enough's enough.

NWFS: So did you fight amateur at all?
Jansen: Yeah, I fought six times as an amateur.

NWFS: How'd that go?
Jansen: Good, I won all six. I think one knockout, four subs, and one decision.

NWFS: So you're undefeated as an amateur and as a pro?
Yeah.

NWFS: Does that play in your head a little bit?
Jansen: Well, I like being undefeated. (Laughs) It works out better being undefeated than having a couple of losses under my belt. Its not really stressful so much. Every fight's stressful no matter if I had losses or not.

NWFS: When you went into the WEC as a newcomer against Richard Crunkilton you were looked at as the underdog, and yet you totally took that fight. Tell me what you went through in that fight?
Jansen: I had to kind of change my game plan mid-fight. Actually right after the first round. My strategy was to outbox him. Its not like I wasn't landing anything, but he was landing more. And I knew he could wrestle, but I knew I could wrestle. I thought I was the stronger wrestler even though on paper everyone thought he was. But I knew. So that was kind of my plan B. If the striking's not going in my favor than I'm going to switch to wrestling. That's what Robert Follis and I talked about in between the first and the second rounds. Just go out there, clinch and take him down, get on top and try to put him away. But going up to that fight, I was under a lot of stress for quite a few reasons. Number one was the delay. Originally scheduled for September 2nd and then it got pushed back five weeks, October 10th. I imagine that affected all the fighters on the card, not just me. But I peaked for September 2nd but I heard a week before the fight's delayed. So then what do you do? I couldn't take my cool down week and then I got a couple cuts in practice and that kind of tweaked something in my leg.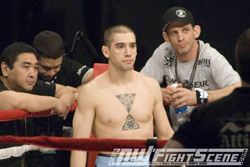 Jansen with Robert Follis (r)

NWFS: You go through all the mental stress and you get the win in your debut.
You're still undefeated. How do you feel now?
Jansen: Good, good. The lead up to this fight's gone a lot smoother, injury free. I'm going to be tip-top shape right at that fight.

NWFS: You're fighting Kamal Shalorus. Now he's 5-1 and most of his wins are from TKO's. He kind of puts guys away fast, and you're more known as a ground and pound decision guy. How do you think this fight is going to play out?
Jansen: He's a wrestler who throws looping punches. I don't think he knows how to throw a straight punch. He hits hard and he's been TKO'ing guys because they can't hang with that power. But I know he's a wrestler, and he's a grappler as well. There's a video on Youtube of him beating Joachim Hansen at the Abu Dhabi Trials by takedown. He went to the Olympics in 2004 Freestyle Wrestling I think for the British team. I think it'd be something different if he made it for the Iranian team. They're a powerhouse, not the UK. I think I could make the British team.

NWFS: So how's that going to play if you both have strong wrestling backgrounds? Do you think that's going to nullify it and end up in a standing game?
Jansen: Well here's the thing. I'm going to go out there and throw straight punches and I'm going to outwrestle him when the time comes. I know he's a strong wrestler but once you throw strikes into the mix, it kind of changes everything. So he's been overwhelming guys who have kept their hands down and chin up. There is one fight that's very telling, the one time he went to a draw. It showed a lot of holes in his game. That third round, he lost the third round, he was just out of gas, entirely out of gas you. I got tired against Crunkilton, but he was hands on knees, gasping for air.

NWFS: So you're looking to take him into the later rounds and kind of see him fade?
Jansen: Yeah. If I can put him away early, I'll certainly do that. But I think the later the fight goes, its definitely going to be in my favor.

NWFS: What's your camp been like leading up this?
Jansen: I've been trying to get at least three workouts in in a day. Cardio in the morning, practice from 3 to 5, and then usually some more conditioning at night.

NWFS: And with all that and you being new into the WEC, are you financially able to just train or do you have to work and do other stuff to make money?
Jansen: I have to be really frugal. I'm not making big bucks yet. That first fight [with Crunkilton], I made more money than any other fight so far. But this is the thing people don't realize, being a pro fighter, you're poor. I'm not working another job. Well, I do coach two to three hours a week at Team Quest. And that's it. But my job is to train. And every two or three months, I fight, and that's basically just seeing how my trainings going... But yeah, I'm really looking forward to getting one of those bonuses. Even though its only 10 grand as opposed to $55,000 to $75,000 in the UFC. The WEC bonuses are a little behind, but man, that 10 grand would be nice.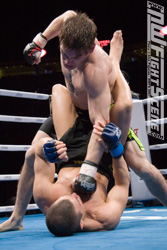 NWFS: What's it like fighting for the WEC?
Jansen: Its awesome. The amount of respect I've been shown already, its incredible.
I got a Christmas gift from Zuffa. I got one of those flip camcorders, with a card that had a picture of Dana [White] and Lorenzo [Fertitta] on the golf course... And Dana White signed it. Everybody got a flip high-def camcorder... WEC and UFC. And then there was this fighter summit just a little bit ago in Vegas. They flew us all out and put us up in the Red Rock three nights and kind of had just like the State of the Union for the WEC and the UFC. Had a Q and A session. I got fitted for a custom mouthpiece within like an hour of being there. Complimentary custom mouthpiece set.

NWFS: Does that give you inspiration, motivation as a pro? You're more of a workhorse fighter so you really put a lot into your fights. I'm not saying anyone does less than you but does getting into the WEC, getting treated like that, does this put some fire under your ass?
Jansen: It does. I'm not the natural talent, you know. I'm not BJ Penn or Chael Sonnen. I have to work. I have to outwork my opponent so yeah, with the stakes being this much higher, I've really been pushing it. I hired a private trainer. He puts me through these workouts that I just can't get myself to do like 10 stations of plyometric exercises. Anyone of them by themselves would be kind of easy but you link 10 of them together and we're not going for repetitions or time. He's going until I break. And then he's moving me on. John Salami from Elite Athletics and that's my trainer and I'm paying him money.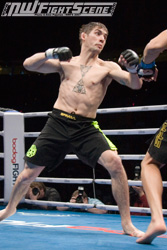 NWFS: So you got to go through the steps, right? You got to watch what you eat, your protein, everything. Do you hire someone to do that?
Jansen: No, I got the nutrition down myself. I've been educating myself for awhile now. You don't want to eat carbs at night. You don't want to mix citrus with your protein because it just makes your stomach work harder than it needs to. Yeah, my weight's down pretty good right now. I'm lean and mean right now at 170 and I have a whole regiment where the weight cuttings kind of science. Basically I'll wake up the morning of the weigh-in right around 165 and hop in the sauna and get the last 10 off.

NWFS: When you're not training and not working your butt off to train, what do you do for fun?
Jansen: Right now I've been playing a lot of Call To Duty, a lot of Warfare 2. I've been killing it. Free for all missions, I win five or six of those games in row sometimes...
It gets my brain working for the day for when I go to the gym.

NWFS: Any sponsors anyone you'd like to thank?
Jansen: I want to thank Clinch Gear for all they did for me before they got banned from the UFC and WEC. John Salami from Elite Athletics World. He's the man. Here in Portland if you need a massage therapist or a personal trainer or a nutrition specialist. And that's it.
---
NW Fightscene would like to thank Dave for taking the time out of his busy training schedule to speak with us. He fights Kamal Shalorus January 10th on WEC 46 in Sacramento at the Arco Arena. The fight card also features the return of hometown favorite and MMA Superstar, Urijah "The California Kid" Faber vs Raphael Assuncao, and the unification bout between reigning 155 lb champ Jamie Varner and 155 lb interim champ Ben Henderson in the main event. More info at WEC.TV.
Check out Dave Jansen online at myspace.com/davefugitivejansen.