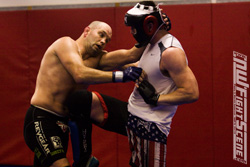 Matt Lindland & Chael Sonnen training at Team Quest
Portland, Oregon's own Chael Sonnen will be fighting this coming Saturday, August 7th, at UFC 117 in the main event versus UFC Middleweight Champ, Anderson Silva. NW Fightscene's Spaniard and photographer Warren Anderson had an opportunity to catch Chael training with Matt Lindland, Dave Jansen, Ian Loveland, and Robert Follis at Team Quest in Gresham in preparation for the fight. After the training session, Chael sat down with Spaniard for this interview...
---
NW Fightscene: So my first question, the weight cut. How's that going?
Chael Sonnen: Yeah, the weight cut is a bear. It's the hardest part. I'm ahead of schedule this time but its still going to be horrible. Its a monster. Everybody goes through it. I'm no different. It's a big obstacle... Its a nice obstacle. It's a great distraction but it's really hard.
NWFS: Does that make you a tougher fighter?
Sonnen: Oh yeah. It makes you a lot meaner. You get like what they say about a dog that they don't feed. He becomes really angry and hard to be around. I have a lot of that. I have to apologize to my friends and family in advance. They never get used to it. Never one time do they just like expect it. Expect 'Hey, he's going to be a little cranky.' Every time they want an apology, want to know why I'm acting like that. It's hard to explain. Hard to explain until you starve.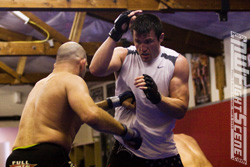 NWFS: Anderson Silva. This is the fight of your life. What changes have you made, if any, for this camp?
Sonnen: Well, I don't do camps. Camps are for kids. I don't sleep in tents or roast marshmallows. I certainly don't tell ghost stories or own a sleeping bag. But I do work hard every single day. I work harder than anybody in this business. And that's what separates me. I haven't been able to focus on Anderson. We're getting to about 15 days out and I'll start. I'll try to sit down in front of a computer and watch a couple of his films, and maybe pick up on something that he does. I've just been pretty selfish for this training cycle. Just focusing on myself.
NWFS: Do you dissect fighters a lot and do you feel that helps?
Sonnen: I think you've got to use any tool you've got. If you got film out there, you should sit down and watch it. But its like coming up with different integers as to why Batman can beat Superman. It really doesn't matter. If you start worrying about what he's going to do, that's the wrong attitude. I've got a certain skill set that I bring. And I need to bring that as close to 100 percent as I can get. He's going to bring his skill set and the better fighter will win.
NWFS: What got you into fighting?
Sonnen: Its the only game I know how to play. I came from a family of wrestlers. My uncle, my cousins, my father, everybody wrestled. I begged my dad to get me into wrestling. He wanted to get me into karate or boxing. Finally he got me into wrestling when I was nine years old. And that's all I know. I've never done any other sports. I never played in high school, football or basketball or baseball. And in fact, I regret it. I wish I would have but I didn't. I don't know how to play anything else. I've never seen a football game my whole life. I'm 33, I've never watched one. I've never seen a basketball game. I've never seen a hockey game. I know what they are but I've never watched one. Never seen it. I've never seen golf... This is the only thing I know how to play.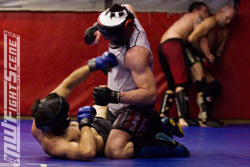 NWFS: Talk us through your first fight.
Sonnen: My first fight, I fought a guy named Trevor Prangley at an amateur event in the Roseland Theater in Portland, Oregon. It was a seven minute match. And I beat him up for seven minutes and 34 seconds. And he submitted me in a triangle choke. And the reason the match went 34 seconds over the scheduled time is the promoter enjoyed it so much, he let it just keep going. And that's the way it worked back then. There was no commissions. There was no regulation. Promoters would do that all the time. It'd be scheduled for two rounds, they liked the match, they'd make it four rounds. And we never complained. Back then, that's just the way it was. I never complained when the match went 34 seconds late and I ended up losing it. That's just the way it was back then. We rematched in the UFC, Trevor and I. For the guys on the amateur circuit, its a tough circuit around here.
NWFS: Chael Sonnen then, Chael Sonnen now. Differences?
Sonnen: Umm, I don't know. I don't know of any differences. They certainly are there. I work hard every single day and it pays off over time. You work out a couple of times a day, every day, for years and years, and you develop and get a little smarter and a little stronger. Better in certain positions. So I don't have anything special that anybody else doesn't have. It just takes time to get there. It took me longer than it takes a lot of guys. But I got there all the same.
NWFS: You did a lot talking in building up the fight. Is that you just building the fight up or is that the Chael Sonnen all the time?
Sonnen: I haven't done anything new for this fight. I hear a lot of people say that. I think I've had a little better avenues now to speak through than before. But I haven't done anything different for this fight than any other fight. I got a lot more people listening. A lot more people paying attention now. But I'm the same guy today as I was 8 years ago when I started.
NWFS: How about the Twitter? Is that your Twitter account or someone else?
Sonnen: No, not mine.
NWFS: How do you feel about people impersonating Chael Sonnen online?
Sonnen: Oh, I love it. I've got three myspace pages, four facebook pages, and at least one twitter account. And I love it. Its very flattering.. You know, that's one of the perks of the job. But you have to enjoy all of that. Whether its for you or against you, you have to enjoy it. Imitation is certainly flattery in any form.
NWFS: Can you go over some of your wrestling titles from your college days?
Sonnen: The titles I'm most proud of is that I'm an NCAA All-American from the University of Oregon. I won two University National Championships, including being voted the outstanding wrestler of the nation. And I was an Olympic Alternate for the United States in Greco-Roman wrestling. I've wrestled for a long time so I got a shoebox full of awards, but those are the ones I'm most proud of. I earned a silver medal in the world championships for the University World Games. I'm proud of that one as well.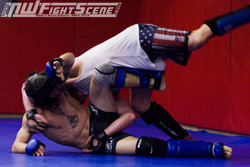 As far as fighting accomplishments, I've beat every champion of every company there's ever been. I've beat the King of the Cage champion. I've beat the Gladiator Challenge champion. I've beat Elite XC's champion. I've beat Strikeforce's champion. I've beat Bodog's champion. I've beat the IFL champion. I beat the WEC champion twice. I've beat every champion of every company's that worth watching except one because he wouldn't fight me. There's not another fighter alive that's done what I've done in terms of cleaning out every company there's been. So those are my accomplishments and my awards, and I'll go after one more on August 7th.
NWFS: You have a junior wrestling team as well..
Sonnen: Yeah. My partner Kevin Keeney and I coach the All-Phase Wrestling club at APWrestling.org. And we're one of the premier teams in the country. We started with six kids in 2001 and we've built our club to 122 members. And there's some excellent, excellent young wrestlers and hopefully will be future Olympians.
---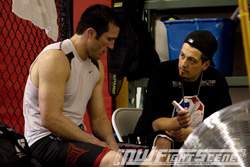 NW Fightscene thanks Chael for taking the time out to speak with us. Catch him fighting this coming Saturday, August 7th for the UFC Middleweight Title against Champion Anderson Silva. The fight will be the main event of UFC 117 taking place in Oakland, CA's Oracle Arena. Info on how to view the fight at UFC.com.